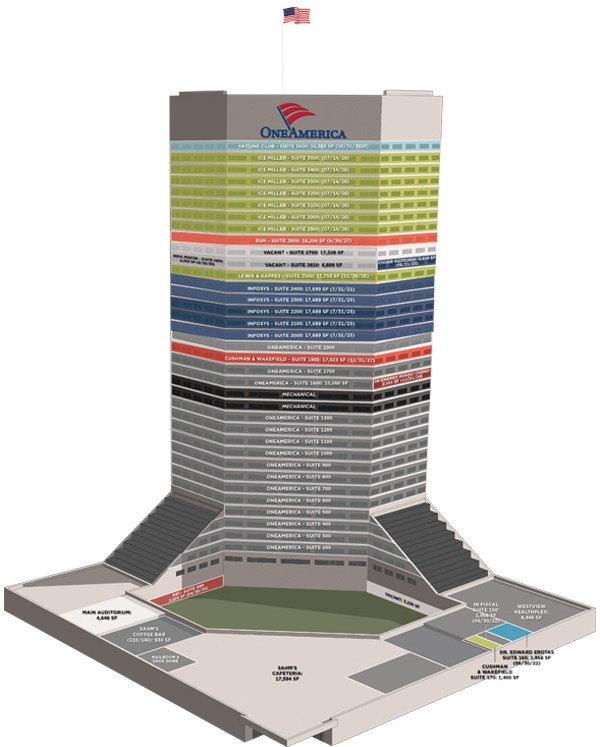 Availabilities
Until now, the OneAmerica Tower simply could not be an option for companies seeking Class A high-rise office space because it was fully occupied by prominent, long-term companies demanding the best in class. It is time to rediscover why discerning companies choose to stay year after year and why it is the perfect time to relocate.
Rediscover the best in service, location and amenities at the OneAmerica Tower.
With full floor availabilities, it is simply a matter of deciding how you want your workspace to flow and function…..open office concept, private office concept or a combination of the two. We present three layouts to begin the imagination process.
| | |
| --- | --- |
| | OPEN OFFICE CONCEPT |
|   | 17,755 RENTABLE SQ. FT. |
| | OPEN OFFICE AREA |
| | PRIVATE OFFICES (1) |
| | RECEPTION AREA |
| | MEETING, CONFERENCE & HUDDLE (13) |
| | OPEN MEETING AREA |
| | BREAK/COFFEE AREAS MAIL/COPY/STORAGE AREAS |
|   | POPULATION COUNT: 133 |
Download PDF
| | |
| --- | --- |
| | PRIVATE & OPEN OFFICE CONCEPT |
|   | 17,755 RENTABLE SQ. FT. |
| | OPEN OFFICE AREA |
| | PRIVATE OFFICES (30) |
| | RECEPTION AREA |
| | MEETING, CONFERENCE & HUDDLE (12) |
| | OPEN MEETING AREA |
| | BREAK/COFFEE AREAS MAIL/COPY/STORAGE AREAS |
|   | POPULATION COUNT: 65 |
Download PDF
| | |
| --- | --- |
| | PRIVATE OFFICE CONCEPT |
|   | 17,755 RENTABLE SQ. FT. |
| | OPEN OFFICE AREA |
| | PRIVATE OFFICES (41) |
| | RECEPTION AREA |
| | MEETING, CONFERENCE & HUDDLE (10) |
| | OPEN MEETING AREA |
| | BREAK/COFFEE AREAS MAIL/COPY/STORAGE AREAS |
|   | POPULATION COUNT: 54 |
Download PDF